Wood floor cleaning is supposed to be easy - at least that's what the designer and the sales person told you when you were trying to make up your mind between wood floors, carpets or tiles. So why do you need a wood floor cleaning service provider like Sunbird Cleaning Services?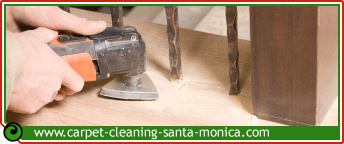 The answer is easy. The salesperson, the designer, or whomever you consulted, was right. Once you've installed your hardwood floor, regular maintenance consists of nothing more than daily sweeping and weekly dusting or mopping with a soft, barely damp cloth. That's it. But, over time, your hardwood floor is going to show the signs of age. Scratches, pock marks, discoloration, warping, water spots, stains. If you've inherited a hardwood floor (i.e., there was a hardwood floor already installed when you moved in), you may also have inherited a color or finish you don't like, or it may have been neglected by the previous owners. That's when you call us. They are experts at renewing the look and feel of hardwood floors.
Wood floor cleaning
There are different types of wood flooring - hardwood floors, engineered wood flooring and laminate. Hardwood and engineered wood floors contain real wood. Laminate, on the other hand, is made of layers of synthetic material. Within these categories, there are different subcategories. The experienced wood floor cleaners from Sunbird Cleaning Services know exactly what type of cleaning method should be used on each floor type and subcategory, and they can accurately predict achievable results. This is an important point, as some flooring types are more acquiescent than others.
Generally, we are called on when a floor needs to be polished or refinished. Before beginning any job, we will inspect your floor meticulously, looking for problematic areas or areas requiring special treatment. Then, using the latest in hardwood floor cleaning equipment, they get the job done to your satisfaction every time.
Wood Floor Refinishing Technicians
Sunbird Cleaning Services technicians use a combination of powerful truck mounted equipment and portable cleaning machinery. Truck mounted vacuums are many times more powerful than consumer grade vacuums. Carrying only a hose attached to the truck mounted vacuum onto the premises, our technicians begin the cleaning process by thoroughly vacuuming every inch of the floor. For this reason, it is important that floor surfaces are free of carpets, rugs, furniture, etc. You can move these items yourself or have it included as part of the service.
After vacuuming, standard cleaning includes treating the floor with a floor cleaning product which is appropriate for your specific floor, cleaning with a floor cleaning machine and polishing. If your floor requires repair, all repairs will be done before the final stages of cleaning, which include applying a stain or gloss, and cleaning baseboards and edges. It is important to note that hardwood floor cleaning is a minimum 2 day process, as the stain or gloss needs at least 24 hours to dry. Once dry, we finish up with an additional vacuuming session.
Call Sunbird Cleaning Services at 310-593-4179 to get more information about our cleaning services and for a free estimate.